[imagebrowser id=12]
---
 Check back soon for the 2014 Dates!
MISSION STATEMENT
2013 Application (PDF)
The College of New Jersey's Summer Pre-Engineering Teacher Academy is offered to high school rising seniors interested in teaching science, technology, engineering, and math (STEM) principles in an exciting, relevant, and real-world engineering design environment. This program is designed to attract students to the field of pre-engineering education through exposure to curriculum and practicum experiences that focus on teaching.
A national shortage of technology/pre-engineering teachers exists in New Jersey and nationally. The National Academy of Engineering (NAE) and other professional engineering societies have identified as a national imperative the need for students to gain technological literacy, strengthen their interest and skills in STEM principles, and in increasing numbers enter engineering and other design fields. Studies have shown that if students, especially female students, are not provided design and engineering experiences in school, they are very unlikely to consider a technological field of study.
TCNJ'S Pre-Engineering Teacher Academy aims to capture the interests of high school students as an effective recruitment strategy toward resolving this shortfall.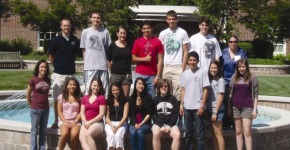 PROGRAM DESCRIPTION
The Pre-Engineering Teacher Academy serves as an excellent long-term recruitment strategy to increase the pool of candidates interested in becoming pre-engineering teachers. Benefits of the Academy include:
• Introduction to pre-engineering teaching and the profession.
• Opportunities to meet with distinguished TCNJ faculty, educational leaders, and teachers to discuss issues pertinent to pre-engineering education.
• Participation in creative hands-on pre-engineering activities.
• Experience making a difference in a student's life.
• Joining other students in an fun and creative atmosphere learning team building exercises, principles of Science, Technology Engineering, and Math.
While on the TCNJ campus, high school students will experience learning as individuals and as productive citizens as they explore new concepts and ideas. Students will experience the profession as they are guided through issues pertinent to pre-engineering education. Students will experience the classroom as they become acquainted with teachers and teaching on a personal and professional level. Working in small groups, students will plan and teach a pre-engineering lesson to groups of middle school students. Each participant will be required to complete all assignments, keep a portfolio, and write a summary report about his/her experiences in the Pre-Engineering Teacher Academy.
PROGRAM ORGANIZATION
Registration will be limited to twenty rising high school seniors. Students are required to attend every daily session. Letters of invitation will be sent directly to participants.
WHO IS ELIGIBLE?
Any student who is taking a college preparatory program with a strong interest in STEM principles, who has completed his/her junior year, and is currently maintaining a GPA of 3.0. Students enrolled in TSA or a PLTW program or NJ High-Tech program or who attends one of our partner schools are strongly encouraged to apply, but it is not a requirement. Applicants must have a desire to learn and grow as a person and in the field of pre-engineering teaching.
Selection Criteria
Students who are selected for this program must meet
the following criteria:
1. Applicants must currently be a rising high school senior
2. Enrolled in a college preparatory program
2. GPA of 3.0 or better on a 4.0 scale
3. Recommended by a STEM teacher
4. Prepare an essay
5. Complete an interview (if requested)
TO APPLY
• Fill out the application(PDF) in the back of our Academy Brochure
• Attach an essay (200-250 words typed) explaining why you are interested in pursuing a career as a Pre-Engineering teacher.
• Attach a letter of recommendation from a STEM teacher.
• Attach a transcript of your high school grades including the first two marking periods of your junior year.
• Attach a list of extracurricular school and community activities including offices held, leadership positions, and the amount of time devoted each week. Include paid work experience as well as volunteer positions.
Mail all completed applications to:
Alison Goeke
Pre-Engineering Teacher Academy
The College of New Jersey
103 Armstrong Hall
PO Box 7718
Ewing, NJ 08629-0718
The College of New Jersey, primarily an undergraduate institution, provides academically prepared students with a challenging education and a rewarding residential experience, mall classes and a prestigious faculty. TCNJ jas been recognized for excellence in U.S. News and World Report, The Fiske Guide to Colleges, Barron's Profiles of American Colleges, and Peterson's Competitive Colleges.