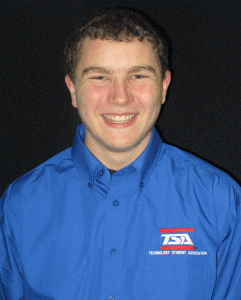 President – Anthony Graybush, Freehold Twp. High School
Hello NJ TSA! My name is Anthony Graybush and I am your 2012-2013 State President. I am currently a    junior at Freehold Township High School, this is my sixth year in TSA, and my fourth year serving as a NJ-TSA State Officer. I've attended TSA Nationals four times, but have yet to be a finalist in any competitions there. Ever since my first year in TSA, I quickly realized that it would be a huge part of my life throughout middle and high school, and have been dedicated to the organization ever since. In TSA, you can find me competing in music production, video game design, and problem solving. But outside of TSA, you can find me studying martial arts, freerunning with friends, or DJing at parties. I'm looking forward to working with everybody for another great year for NJ TSA, and I hope to see some familiar, and some new faces at our state conference this year!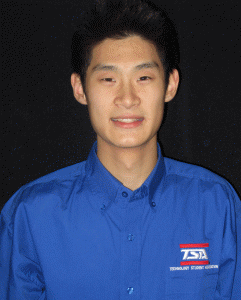 Vice President – Derek Liu, High Technology High School
Hello New Jersey TSA! My name is Derek Liu, and I am currently a senior at High Technology High School. I have been a part of TSA since my freshman year, and TSA has strengthened my interest in science and engineering as well as challenged me to design solutions in order to change our world. It has shaped me into a technology leader and taught me the advantages of collaboration. This year, I plan to instate new ideas to progress NJ-TSA alongside advancing technologies. These changes will help NJ-TSA expand as an organization, reach out to individual chapters more directly, and ultimately move up even further on the national radar. Outside of TSA, I enjoy playing sports, especially tennis, golf, and basketball. I also love to find my creative side, whether it involves playing music, reading and writing, creating outlandish school fundraisers, or taking on other artistic endeavors. I am looking forward to working with everyone for another great year.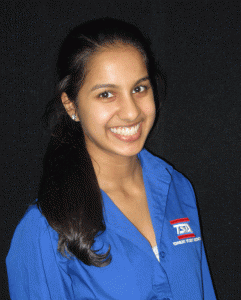 Secretary – Sreela Kodali, High Technology High School
Hello NJ TSA! My name is Sreela Kodali, your TSA State Secretary. I am a junior at High Technology High School, and this is my third year in TSA. I have competed in the Engineering Design competition and was an Engineering Design finalist at TSA Nationals. Outside of TSA, I am involved in Student Government Association, robotics club, and classical dance. TSA has taught me so much, and I can't wait to share my experiences and love for technology with all of you. I am looking forward to serving our organization and meeting everyone at this year's state conference.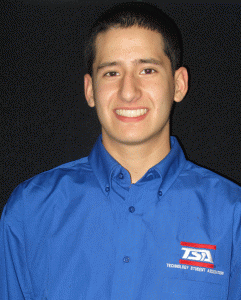 Treasurer  – Daren Abad, Howell High School
My name is Daren Abad and I am the NJ TSA State Treasurer. As a TSA member for 6 years, I have been involved in meetings, trips and competitions. I was actually born in South America in a country called Ecuador. I lived there until I was 6 years old. My interest in technology actually started there where my family owned a computer store. When we first moved to America, I lived in Brooklyn, NY where my dad was a technician and showed me everything about computers. As the years went on my interest grew. Four years later, we moved to Howell, NJ where I attended Howell Middle School South. In my first year of middle school, I joined TSA and instantly fell in love with the organization. I competed in Manufacturing Challenge and won first place at NJ TSA states which qualified me for nationals. After that great experience, I couldn't help but to be a part of TSA every year after. I have competed at states since then and have earned my Gold Achievement Award. I decided that I was ready for a leadership role in TSA and that I would run for state office and won. Last summer, I was in the Summer Pre-Engineering Academy and found out that I really enjoy teaching technology as well. I plan on having a great year serving the membership of NJ TSA. Feel free to contact me and please follow us on Twitter @New_Jersey_TSA.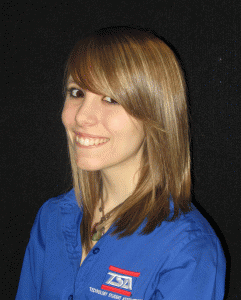 Sergeant-at-Arms – Kimberly Wood, Freehold Twp High School
Hello, my name is Kim Wood and I am currently a senior at Freehold Township High School. I First got involved with TSA while I was a 7th grader in Howell Middle School South and I have loved it ever since. When not participating in TSA related activities or studying for A.P classes, you can usually find me listening to music, on the computer, or critiquing B rated horror movies on Netflix. With interests ranging from taking care of animals to chemistry and from reading to pistol shooting, I can always find something to do to keep boredom at bay. On a slightly different note, I consider myself to be both a hard-working and persistent person and when confronted with a difficult problem, will often drive myself nuts trying to figure it out. I am, also, very outgoing and can strike up random conversation with anyone. (So don't be afraid to say hi!) I am certain that these traits will aid me in my duties as State Sergeant at Arms and I look forward to serving our organization in the year ahead.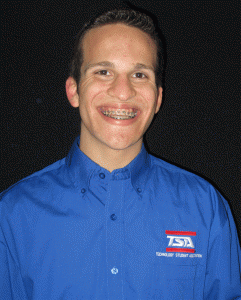 Reporter – Alexander Perotti, Clearview Regional High School
Hello! My name is Alex Perotti and I am currently in my senior year at Clearview Regional High School. I have been involved in TSA since freshman year, and have competed in a variety of competitions, including Chapter Team, Web Design, and Engineering Design. In addition to TSA, I strive to challenge myself inside and outside of the classroom with a strong course load and many extracurricular activities, such as Cross Country, Student Government, Latin Club, and the freshman mentoring program. Needless to say, I never fail to keep myself busy! Outside of school, you can usually find me listening to music, spending time with my friends and family, or at the football field where I coach 10-13 year olds on the local club football team. I plan on majoring in mechanical engineering when I enter college, and I have spent the last two summers working for the Naval Surface Warfare Center, Carderock Division, Ship Systems Engineering Station (NSWCCD-SSES) at the Philadelphia Navy Yard. That's quite a mouthful, I know, so usually I just tell people I'm working for the Navy and leave it at that! I am really looking forward to the future and TSA is an excellent opportunity for me to do the kind of work that I truly love to do. I look forward to spending this year as State Reporter and am very excited to see the amazing things that New Jersey TSA will accomplish this year, and in the years to come.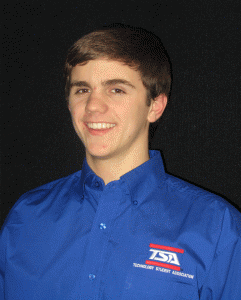 Historian – Nicholas Falconi, Clearview Regional High School
What's up TSA NJ?! My name is Nick Falconi, I am a senior at Clearview Regional High School and your State Historian. I have now been a part of TSA for four years strong and I absolutely love it! As a state officer my biggest goal is to get you involved and your ideas so we can all come together to create the best organization there is because I know we can't do it without you. New Jersey is really growing with many students and it is important that everyone has a say. TSA is a fantastic program and goes great with my personal interests of Math, Engineering and my future plans to join the Navy through a college program. Aside from TSA I am part of my schools Swim Team, Dive Team, Volleyball Team and enjoy doing things on my own such as working on computers and exercising regularly. I consider myself extremely outgoing and I love talking to people. I cannot wait for this year to take off and to be the best State Historian possible!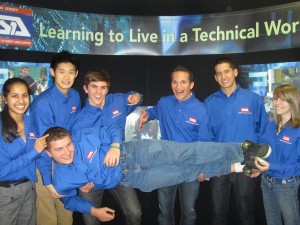 ---
State Officer Advisors
Thomas Jennings
Freehold Twp. High School
Mr. Jennings is an alumnus of the Howell HS TSA chapter. After winning 2nd place in Medical Technology at the 2004 NJ TSA State Conference, Mr. Jennings attended the National TSA Conference in Nashville, TN. Mr. Jennings attended The College of New Jersey as a Technology Education major and helped to judge 3 NJ TSA State Conferences. Mr. Jennings has been the Freehold Twp. HS TSA advisor for the past four years and is in his 2nd year as a NJ TSA State Officer Advisor.
Robert Dennis
High Technology High School
Mr. Dennis has been the TSA advisor at High Technology High School for the past 8 years and an State Office Advisor for the same time period. Mr. Dennis has attended the past 8 national conferences with a large team from his school. Mr. Dennis graduated from Montclair University as a Technology Education Major and has been a training manager at a major financial information company for 12 years and a teacher High Technology High School for the past 13 years. Mr Dennis currently teaches Pre-Engineering courses at High Tech High School. Mr Dennis also helps to conduct workshops for other TSA Advisors at the College of New Jersey.
Melissa Parr
Clearview Regional High School
This is Mrs. Parr's 4th year as a TSA state officer advisor and 7th year as Clearview High School's TSA chapter advisor. When she was introduced to TSA in 2005, she saw how TSA enforces 21st century skills through exciting technology based competitive events and leadership opportunities. Without hesitation she established the TSA chapter at Clearview HS. Mrs. Parr received a Bachelor in Architecture degree from Temple University and practiced architecture full-time at firms in Philadelphia and Cherry Hill before becoming an educator. While working at the Cherry Hill firm she volunteered to run local student competitions at area high schools for the American Institute of Architects. It was at that time that she found she developed a love for teaching. She took the alternate route path toward teaching certification and now teaches courses in Architecture and Engineering Design.
Sherry Roses
Howell High School