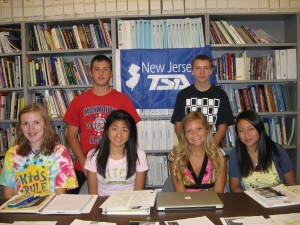 President- Brian Blood
Vice President – Betty Liu
Hello, I'm Betty Liu, your NJ TSA Vice President, and a current senior at
High Technology High School. A little bit about me: I have been a TSA
member since my freshman year of high school, served as a chapter officer during my sophomore year, followed by NJ TSA Secretary my junior year. Outside of TSA, I participate in various clubs, including Student Government Association, Key Club International, and yearbook. I also play sports for Colts Neck High School, specifically varsity tennis, varsity track, and cross country. I've had a lot of fun these past three years in TSA, and I hope you get as much fulfilling experiences out of TSA as I have. I look forward to meeting you at the NJ State Conference!
Secretary – Anna Grace Walton
Hello, I'm Annagrace Walton, your New Jersey TSA secretary and a senior at Clearview Regional High School. I've been a part of TSA for three years and this is my first year as a state officer. I have competed two years at the state level of TSA and last summer I went to Nationals in Baltimore. In addition to TSA, I'm very involved with school clubs such as National Honors Society, National Art Honors Society, Environmental Club, Varsity Club, and Student Council. I am captain of the tennis team and I have been playing varsity tennis for three years. Out of school, I enjoy playing the piano, skiing, hanging out with my friends, listening to music, and watching my Pittsburgh teams win (excluding the pirates). I also really love to draw and paint. In my future, I plan to get a masters in Architecture and a minor in psychology, then go off to law school. TSA is such a great, fulfilling club to be part of and I am so delighted to be part of TSA this year as your NJ-TSA state secretary!
Treasurer – Emily Chen
Hello New Jersey TSA! My name is Emily Chen and I'm currently a junior at High Technology High School in Lincroft, NJ. This is my third year participating in TSA and my first year as part of the state officer team. My first experience at a national TSA conference was in my first year participating in TSA as well as in my freshmen year of high school; I had the honor of placing first in Medical Technology. In school, I enjoy participating as part of my grade's student council, my school's Model United Nations club, and competing in various research competitions. In my spare time I enjoy running and hanging out with my friends as well as drawing and playing the piano. I look forward to playing an integral role as part of the New Jersey TSA's officer team!
Sergeant-At-Arms – Anthony Graybush
Reporter – Emily Bujnowski
Hey New Jersey TSA! I'm Emily Bujnowski. I'm a junior at Clearview Regional High School and this is my third year involved in TSA. Last year I won 3 awards at state level for Imaging (3rd), Chapter Team (3rd) and Interior Design (2nd). I also went to my first National conference this year in Baltimore and had a blast! TSA has been a great experience for me so far, and I'm so excited to be an even bigger part of it. In addition to TSA I am very involved in my school's music program. I play oboe in our schools Honors Wind Ensemble, which has played at the New Jersey State Gala Concert two year in a row. I also play Piano in the Jazz Band, and I am teaching myself to play guitar, just for fun. I also play softball and dance, and I love to read and write in my free time. I love being involved in TSA, and I'm so happy to be part of the program on a new level!