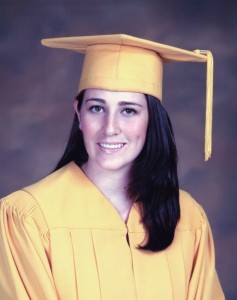 A recent graduate from Clearview Regional High School and the 2009-2010 NJTSA State Reporter, Simone Scafide recently was awarded FOUR scholarships at the culmination of her senior year:
1. The New Jersey Technology Education Association's (NJTEA) Future Technology Educator Scholarship
2. The National TSA Teach Technology Scholarship
3. The Leo N. Knuti Technology Education Scholarship from Montana State University
4. The Clearview Education Association Future Teacher's Award.
State Advisor, Alison Goeke, caught up with Simone this summer to discuss all of her successes and plans for the future…
Alison Goeke: Congratulations on graduating from Clearview Regional and for the recent scholarships you have been awarded!  What are your plans for the fall?
Simone Scafide: This fall I will be attending Montana State University in Bozeman, MT for Technology Education and Mathematics.  I chose MSU because the college campus is beautiful and because I received the Leo N. Knuti Technology Education Scholarship, in addition to merit awards.  Montana state also offers a lot of fantastic opportunities and programs, such as graduating with Honors, a "Hike and Read" weekend for freshman honors students, Engineering Without Borders, and the education department has partnerships with schools in Ireland and New Zealand for students to do their student teaching abroad.
AG: As a former NJ TSA State Officer, what advice would you give to future State Officers?
SS: Bring something new to meetings, don't be afraid to speak-up and give your opinions, and be sure to talk to other students to get ideas so TSA can try to change and improve. Also, officers should try to improve their public speaking and confidence.
AG:When did you know you wanted to be a Technology Education Teacher?
SS: I was actually set on being an engineer for years and only considered teaching because my TSA advisor recommended that I try the Future Technology Teacher Competition, and I was also encouraged to apply for TCNJ's Pre-Engineering Teacher Academy.  At TCNJ's academy I got the opportunity to work with a group of young students, and realized how much I loved teaching and working with kids.
AG: How has your involvement with TSA influenced your career choice?
SS: Without TSA, I would have never gotten the opportunity to work with my TSA advisor, Mrs. Parr, and Mrs. Parr is the reason I looked into Technology Education.  Also, through TSA projects and summer programs, I was able to really see what Technology Education is and how it has evolved, and it gave me a way to see I really enjoy all the work that goes along with teaching.
AG: What else have you learned through your involvement with TSA?
SS:  As a State Officer I have been able to improve my public speaking skills,  learned how to organize and run events with large groups of people, such as leadership and state conferences and the Future City Conference at Rutgers University, and even how to have a conference call.  From participating in TSA, I have learned time management and how to meet a deadline, how to write a cover letter, resume, and lesson plans.  From competitions, I've learned how to interview engineers, and how to prepare a speech in 5 minutes.  My involvement at the chapter level taught me how to hold meetings, plan a fundraiser, and because of my responsibilities organizing my local chapter, I can make an Excel Spreadsheet for just about anything.
AG: Simone, you have an incredible future ahead of you! We hope you will come back and stay connected to NJ TSA.  Thank you for all of your contributions over the years.  Again, congratulations on your awards and we wish you much success in the future!
SS: Thank you for all your help, support, and for making TSA possible. NJTSA really wouldn't be able to run without you, Michelle, Mr. Harms, Mr. McConnell and Ms. Roses, or all the help from TCNJ student judges.
AG: Thank you Simone!