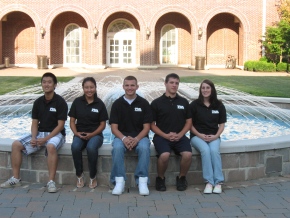 Tyler Roses, NJTSA President
Hello.  My name is Tyler Roses and I am a senior at Howell High School.  This is my second term as your NJTSA State President, fifth year as a state officer and seventh year in TSA.  I enjoy giving back to TSA as it has helped me mature and provided me with so many learning opportunities.  Besides TSA, I also play three sports; football, wrestling and lacrosse.  I work hard and am dedicated to all my activities.  In addition, I find time to write the sports articles for my school newspaper.  My goals this year are to increase membership, especially at the middle school level, and have more organized and exciting conferences.  TSA has given me so much throughout my middle and high school years.  I hope to give back while helping my peers and fellow TSA members throughout the state engage in exciting and worthwhile activities.  I look forward to hearing your ideas and working with all of you this year.  Here is wishing you the best of luck in your competitions and for a successful school year.  See you in Baltimore!
Joshua Ma, NJTSA Vice President
My name is Joshua Ma, the 2009-2010 Vice President of the New Jersey TSA. I am a senior at High Technology High School, Captain of the Math League team, President of the National Honor Society, President of Computer Club, and a member of the A-Team for Academic Team and Science Bowl. Outside of school, I enjoy working as a freelance web designer, playing tennis, and swimming. I hope to use my technical experience to improve TSA and make it an even better experience.
Betty Liu, NJTSA Secretary
Hello! I'm Betty Liu, your NJTSA Secretary. I am currently a junior at
High Technology High School. I have a lot of enthusiasm for this upcoming
year and I can't wait to implement new ideas while upholding old
traditions. A little bit about me: I have been a TSA member since my
freshman year of high school and served as a chapter officer during my
sophomore year. Outside of TSA, I participate in various clubs, including
Student Government Association and Key Club International. I'm also on the
Colts Neck High School's tennis team, winter track team, and spring track
team. TSA has provided me with unforgettable moments that have truly
helped shape me into a technology leader. I hope you get as much fun and
fulfilling experiences out of TSA as I have! If you have any questions,
comments, or ideas, please e-mail me at betty_liu@hths.mcvsd.org. I look
forward to meeting you at the NJ State Conference!
Brian Blood, NJTSA Treasurer
Hello NJ TSA! Its Brian Blood your New Jersey TSA Treasurer.  I would like to thank the NJ State Assembly for electing me to be your NJTSA State Officer.  This upcoming year is going to be a busy one for the officer team and we are excited and ready to begin our work.  Just to let you know some background information on me: I attend Howell HS and I am a Junior.  This is my second year as a State Officer.  I have been a part of TSA for seven years now and have attended seven national conferences.  I have held positions such as Sergeant At Arms, Treasurer, and VP on my chapter's board.  I have also placed in the top 10 at the national level.  On a more personal note, I am very involved in many extracurricular activities such as student council, baseball, and basketball.  Throughout my time in TSA I have always been very dedicated and I will continue to carry on that tradition.  Thank you and have a great year.
Simone Scafide, Sergeant-at-Arms
I am currently a senior at Clearview Regional High School. This is my first year as a State officer, however I have been a member since my freshman year and have been my chapter's reporter and president. Outside of TSA, I'm evolved with Chess Club and Mock Trial. Next year I plan on majoring in Technology Education.