Show your love for TSA this wintry season!
Design and create a Valentine's Day bouquet from reused objects!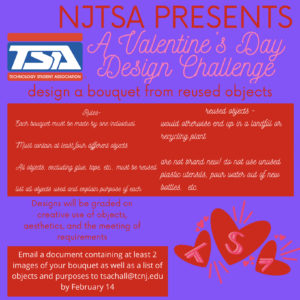 Rules:
Each bouquet must be made by one individual
Must contain at least four different objects.

All objects, excluding glue, tape, etc. must be reused.
List all objects used and explain the purpose of each reused object.
Reused Objects:
Would otherwise end up in a landfill or recycling plant.
Are not brand new! Do not use unused plastic utensils, pour water out of new bottles, etc.
Designs will be judged on creative use of objects, aesthetics, and the meeting of requirements.
Submission:
Email a document containing at least 2 images of your bouquet, as well as a list of objects and purposes to tsachall@tcnj.edu by February 14, 2021 at 11:59 PM, EST.
Make subject of email "Valentine's Day Design Challenge" and your school's name.