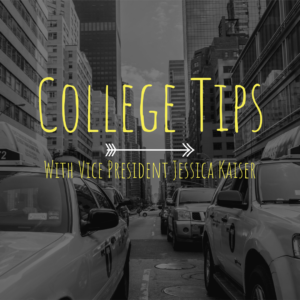 Hello everyone! This is your State Vice President Jessica Kaiser. This is the time of year that many of us plan for the next school year whether it be by applying to a specialized high school, picking your next year's classes, or deciding what college you will be attending come the fall. Currently, I am working on getting into college. By this time during my junior year, I already had started my common application essay, and come the summer I had already started the common application questions since all of my schools used the common application website. Since I had a head start on the process, I decided to apply early action on a majority of my colleges. This means that I would submit my applications earlier and hear back by mid-December. I also applied to one school under early decision. This means that if they accept me, I am bound by a contract to go there. Personally, I found this whole process quite straightforward, but deciding where I wanted to go was the hard part.
First, I needed to figure out my major. It doesn't come to a surprise to say that TSA had overwhelmingly influenced my college decision. To the credit of TSA as inspiration, throughout high school, I have taken upper-level math, science, and technology classes and enjoyed almost all of them. By my junior year, I was really stuck between the two options of studying chemistry or physics in college, so I traveled to a college program in Arizona to try and figure it out. Luckily, this cleared up confusion and helped me pick the major chemical engineering. While deciding what I wanted to do was a difficult process, the process of picking where I wanted to go was even more difficult.
Next, I had to pick where I wanted to go. Previously, I had my heart set on going away, living on my own, and being independent, but when I traveled across the country I felt too far from my family and decided to stay in the tri-state area. Considering my love for competitions relative to TSA, I wanted to go to a school where I was a little fish in a big pond because that would put me in a more prestigious environment. TSA also inspired me to seek an immersive program, thus choosing to attend a college with a co-op program that allows me to work in the industry and get experience while still in school. While the entirety of the college process isn't too fun, waiting to hear back is the worst part. Joking aside, no matter where you end up going, it is a reward for all of the work and effort put in during high school.
Here are a few tips to make the whole process a little more bearable:
Use college searches to narrow down where you want to go

Keep your interests, clubs, and sports in mind

Look at the area around the college of interest

See if the extracurriculars within the college fit your interests

Pick a school that you fit well in academically

In your application and interview, talk about all of your accomplishments even if you don't think they're a big deal

If you have the option of doing an interview, take it and bring a resume with you

A resume is really helpful because, besides leaving a good impression, it can add more accomplishments of yours to the application

Start the process early!
Good luck from your NJ TSA State Vice President, Jessica!