NJ TSA MIDDLE SCHOOL STATE CONFERENCE –
Middle School Conference Results!
The Spring 2022 NJ TSA Middle School State Conference will be ALL VIRTUAL. Find information below.
Please use the NJ Supplement, linked below, in conjunction with the TSA Middle School Competitive Events Guide (for the 2022 and 2023 National TSA Conferences).
---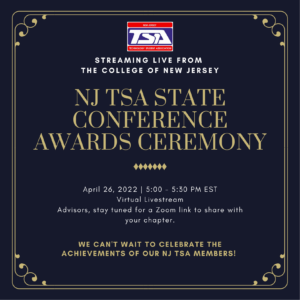 Save the Date – April 26, 2022 from 5:00 – 5:30 PM. Please join us for a livestreamed Award Ceremony, as we celebrate the achievements of our NJ TSA members. Zoom link will be sent out prior to ceremony to all NJ TSA chapter advisors.
Conference Information:
---
Accommodations for Events: It is the intent of NJ TSA that all students be provided fair and equal access to the events offered by our organization. Facilities used for conferences and events are wheelchair accessible. Students with disabilities are covered by the Individuals with Disabilities Act (IDEA) which provides for an Individualized Education Plan (IEP) and Section 504 of the Rehabilitation Act of 1973 which provides for a Service Agreement and the Americans with Disabilities Act (ADA). Specific accommodations mandated by a student's IEP or Service Agreement that would not change the essential nature of the event will be allowable in middle and high school competitions. These accommodations may include, but are not limited to, the use of readers, enlarged print, communication devices, change of location for test taking, clarification of instructions, additional time for completion of event or any other applicable accommodation specified in the student's IEP or Service Agreement. Students requesting accommodations should email NJ TSA at turner25@tcnj.edu. The NJ TSA Executive Board will review all requests.
It is our goal to include all students who are interested in TSA regardless of their ability. Should you have any questions or concerns, please email us at 
turner25@tcnj.edu
. 
Facilities:
 Facilities used for conferences and events are wheelchair accessible. Any chapter advisor who registers participants with special accessibility needs should email tsa@tcnj.edu. Please send any other special requests to tsa@tcnj.edu and we will do our best to accommodate your students' needs.