New Jersey TSA,
As your State President, I address you all, members, officers, and advisors, for the final time and would like to extend my congratulations to all of you on your accomplishments..
Our resilience and ability to persevere is a defining factor of what we are, ONETSA. Always innovating and thinking outside the box, YOU, the members, officers, and advisors are the ones who take on the TSA mission of understanding and taking part in the ever changing technical world. Your unwavering commitment to our delegation is what shapes visions into reality. This year was most notably marked by innovation on the state and chapter level. With our first outline of a mass statewide merch fundraiser, advancements in state to chapter connection, and through the introduction, establishment, and gradual implementation of the first ever state committee system, students in NJ TSA have been given more opportunities to succeed. Our three committees, Chapter Affairs, Fundraising and Challenges, and Promotional Outreach have been working on the forefront with myself and the state officers for the past year to deliver progress and continued plans of development for the future of our delegation. Additionally, in late February all New Jersey TSA members had the remarkable opportunity to participate in the first annual ChapterCon held at Biotechnology High School, an event for students to compete in a series of design challenges while also having a hand at placing in top 3.
Anyways, as this year comes to a close, we hope to continue to advance the scope of leadership positions available, bridge the communication gap between the state and chapters through state officer visits, and promote fundraising and events at the chapter level.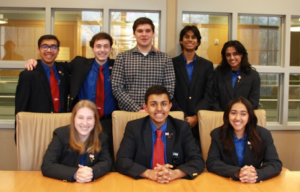 I would also like to take this opportunity to thank you, the members and leaders, for always thinking outside the box to illuminate the pathways for thousands of students to partake in academic competitiveness. Moreover, I would like to express my greatest appreciation to the State Officer Team (Michael Tepperman, Jack Witzke, Sutej Upadhyaya, Cassidy Brennan, Khushi Patel, Anuhska Gupta, and AJ Boyle) and the 20 committee members who have put in much of their time to assure the success of our delegation. Lastly, thank you to my advisors, who were always there to support my TSA endeavors, Ms. Deborah Sales, Mr. Thomas Jennings, Ms. Megan Herbert, and Ms. Alison Goeke.
It's the TSA mission of achieving academic competitiveness in an ever-changing world, and it all starts here! This is an era of building towards a brighter future for thousands of students across
 the state, it's our legacy of innovation and this is merely the start. Thank you all for the remarkable opportunity to serve as your delegation's two term State President, I look forward to passing on the gavel to your next President, Cassidy Brennan, as I begin my studies in the field of Dentistry. 
While I find it difficult to leave such an outstanding organization, I'd like to thank you again, New Jersey TSA, for the best seven years. I hope to see you all soon as a part of the ever connected Alumni group!
Signing Off,
Sahil Maher
State President; New Jersey TSA 2021-2023