On Friday, March 19th, 2023, NJ TSA State President Sahil Maher, Vice President Michael Tepperman, Treasurer Sutej Upadhyaya, and Sergeant-at-Arms Cassidy Brennan made a visit to Newbury Elementary School in Howell Township, New Jersey. During this visit, roughly 125 fifth grade students participated in a collaborative and leadership-style design challenge. 
Below are the winners of the design contest for the program: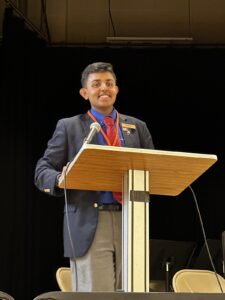 First Place: Team Ackorn

Caleb Scott

Jaimee Tanguay

Aiste Vilimaitis

Ryan Wall

Keira Yarosz

Second Place: TSA Geniuses

Anya Maher

Anjali Maher

Prahlad Iyer

Shreyan Gunturu

Alex Kosenkov

Jeffery Hicks

Third Place: (Team and Individual Names Unavailable) 
This event was New Jersey TSA's FIRST visit to an Elementary School! NJ TSA would like to thank the Howell Township Administration as well as the Newbury Elementary School Principal, Dr. James Quinn and 5th Grade Project GOAL Teacher Ms. Vidhya Nageswaran!